Everyone's favorite VLC has received an update today, bringing it to 2.0.4.
This release fixes a lot of regressions, issues and security issues in this branch.
It introduces Opus support, improves Youtube, Vimeo streams and Blu-Ray dics support. It also fixes many issues in playback, notably on Ogg and MKV playback and audio device selections and a hundred of other bugs.
Changes between 2.0.3 and 2.0.4:
Read more changes and information on 2.0.4 on the official site for VLC:
http://www.videolan.org/vlc/releases/2.0.4.html
I personally don't use this as often as Media Player Classic, but the reviews are good for others who talk abou it.
VLC uses its own internal codec libraries, so you don't have to install any!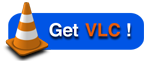 Download VLC 2.0.4 for your OS here:
http://www.videolan.org/vlc/#download
Or download from this mirror site (Portable versions available here):
http://www.videohelp.com/tools/VLC-media-player